Guatemala's Semana Santa — the Easter Festival — in the former colonial capital are beyond comparison to anything in the northern hemisphere. Along cobblestone streets, intricate carpets of colored sawdust are painstakingly laid down.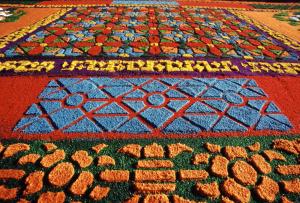 One of the most impressive aspects of the Easter Festival in Antigua are the "carpets" that adorn the processional route. Residents along the streets begin preparations weeks and even months in advance creating these beautifully intricate offerings. Sand is first laid to level the cobblestone, followed by sawdust that has been collected and dyed to bright shades of red, yellow, blue, purple, green and black. Pine needles, flowers and native plants are also used for decoration and fragrance.
The carpet designs reflect Maya tradition, biblical symbolism and scenes from nature. The art of carpet-making is thought of as sacrificial because of the intense detail and amount of time dedicated to their creation, only to be destroyed once the processions pass.
https://www.adventure-life.com/south-america/articles/easter-in-guatemala-the-legendary-carpets-of-semana-santa-in-antigua-guatemala